Katherine Houston
Our initial tour revealed the street installations from emerging and established names, allowing the general public to also enjoy and interact with the designs. These street pieces dotted around Clerkenwell included six words written to encapsulate the vibe of the festival, from the typography design company: Monotype. Read and see more from the tour here.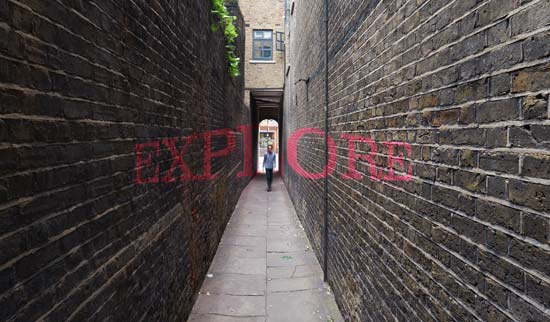 Explore by Monotype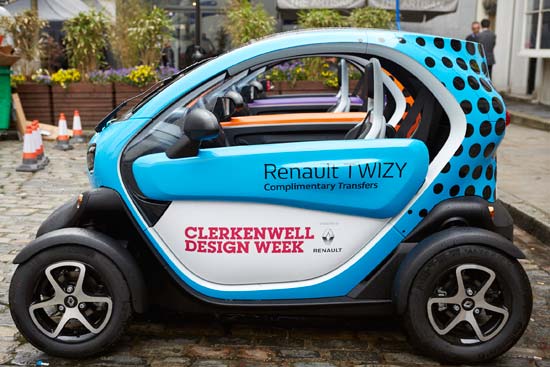 The Twizy mini-cars, supplied by Renault to chaperone guests around Clerkenwell.
Now in their eighth year, The Design Guild Mark Awards were announced by The Furniture Makers' Company and recognise both creative talent in Britain and British designers abroad. Simon Alderson of twentytwentyone, Sebastian Conran from Sebastian Conran Associates and Diana Monkhouse of Auckett Swanke were just three among the remarkable judging panel for this year's awards.
Alexander Gifford, Chairman of the Design Guild Mark said:
'This year saw another record number of entries being held to some very high standards by a judging panel that increasingly represents diverse parts of the furniture industry. The entries were equally diverse, from contract to retail, from residential to hospitality and workplace, as were the applicants themselves. Chairing the judging process was a great honour, and watching the great minds in our industry critique the great output of British design was a real pleasure.'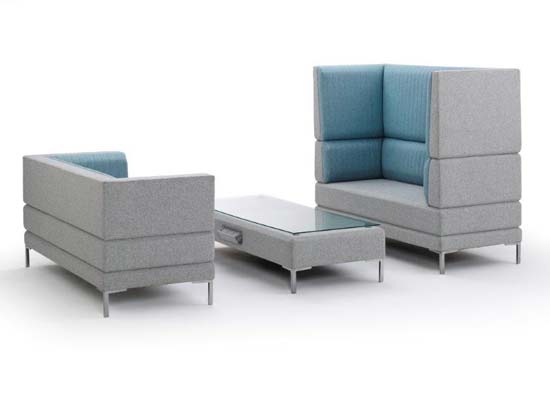 HenRay by Henry Gurney for Ocee Design
A key figure of the event, Grimshaw's 'Tensilation' Pavilion at St James' Churchyard got off to a rocky start but the finished result was a superb umbrella-like structure sheltered by a canopy of trees – overall achieving a symbiotic relationship with the surrounding environment.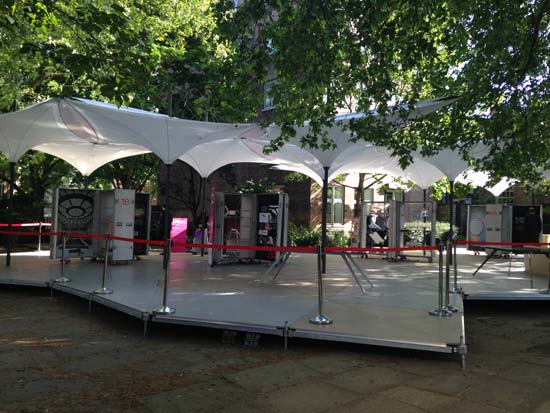 Grimshaw's 'Tensilation' Pavilion at St James' Churchyard
With a multitude of events to choose from, Wednesday evening brought the passionate discussions from Oliver Heath, Sebastian Conran and Melissa Sterry to Interface. Amid cosmopolitans and Negronis we heard the design icons speak about biophilic design, robotics and social architectures respectively. Heath ardently detailed the science and style behind biophilic design; where it is now and that by harnessing this technique in schools, hospitals and workplaces, we could achieve faster cognitive education, faster healing time, patients feeling less pain, doctors less stressed, healthier workers and increased productivity to name just a few remarkable positives.
Conran talked about, 'Designing technology to enhance the experience of our later lives' and projected some of his latest work. One of these technological pieces is a new robotic companion for the elderly, described impeccably as;
'A bit like a cross between a pet and Radio 4'.
Conran's idea of the MIRo companion was to find a balance between costs and usability, compared to the PARO seal from Japan that was not very cost-effective. The dog looks like how you would picture a robotic dog and features primary sensors for seeing, hearing and sensing, with the capacity of performing 10 to 20 commands. Other works included Magic Furniture – incorporating technology into a table, buddi – a vital signs bracelet and 'Moley' – robotic kitchen arms that prepare meals.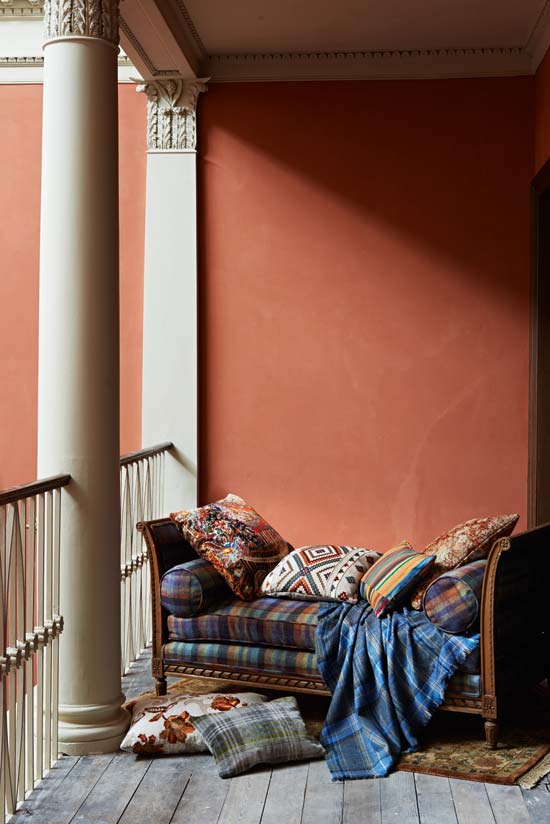 Bohemian Romance by Mulberry
As a whole, there are some exciting new projects in stock for the future of design and they are rapidly approaching.
After witnessing some world-class design and coming face-to-face with the masterminds behind them, we're looking forward to next year's Clerkenwell Design Week – but first, the 2015 Blueprint and FX Awards.
Enter the Blueprint Awards, deadline 30 June 2015.
FX Awards deadline 24 July 2015.
See more from the tour of Clerkenwell Design Week 2015.
Discover 10 of the best biophilic buildings and hear from Oliver Heath.
Main image: Wordplay by Monotype; Photo: Joanne Underhill
Source: INTERIORS