The team at Andrew Henry Interiors has showcased their innovative approach, creating a phenomenal, sustainable show home. The ambitious project at Newland Homes' new zero carbon development in Tickenham highlights how designers can curate incredible spaces which promote environmental awareness. Enriched with clever designs and a host of eco-friendly credentials in each room which highlight the challenges our environment faces, the stunning show home marks the design teams first eco-friendly project and promotes the joy that can be found from upcycling and using sustainably sourced products.
Creating a unique and beautiful home, Andrew Henry Interiors dedicated time and care into the project incorporating upcycled pieces, sustainable materials and ethically sourced furnishings. Lead Designer on the project, Lucy Thorn, comments: "This project was revolutionary, not only for our team but also the wider industry to demonstrate that show homes can be both sustainable and stylish. This is a subject I am passionate about so I was thrilled to head this project and apply my knowledge of sustainability, whilst developing the Andrew Henry Interiors offering. We all need to play a part in preserving the environment and the design industry can play a key role in its protection."
Lounge
The team at Andrew Henry Interiors chose neutral shades for the majority of the home, creating a clean, sleek feel, introducing lined wallpaper to the spacious lounge for extra depth. Lucy comments: "Each furnishing item throughout the home has been researched and certified to ensure they feature green credentials. In the lounge, we added stunning light-grey sofas created from a textile called Rolefin which is produced through a zero-water consumption process, can be recycled up to seven times, contains no harmful chemicals and has an incredibly low carbon-footprint."
The lounge also features furniture formed from Mango tree wood, which is collected once the plant has stopped producing fruit. The rustic and teal cushions and additional soft furnishings are handmade from recycled plastic yarn and the rug has been produced using jute which is made from the jute vegetable plant. Showcasing her depth of knowledge, Lucy explains: "Jute is completely biodegradable. The plant grows quickly and without the use of pesticides or fertilisers, this material is renewable and sustainable."
Lucy continues: "We felt it was important to have a good balance between products made from sustainable sources and furnishings from second-hand sources to show the varying ways people can be more eco-friendly. The sideboard and bookshelf were sourced from local reclamation yards and upcycled to create beautiful stand-out pieces. A luxury burgundy armchair was sourced from Facebook marketplace, unifying the look and providing a cosy reading corner."
Two round mirrors in the lounge are from a UK-based ethical company whilst the remaining styling items are either second-hand or produced using recycled material such as recycled glass. The second-hand artwork includes a large, gold framed picture of a misty landscape bought in a charity shop. Lucy adds: "This unique feature is actually a photo taken by a local lady who wanted to share the enjoyment she'd experienced from the piece."
Kitchen/Dining Room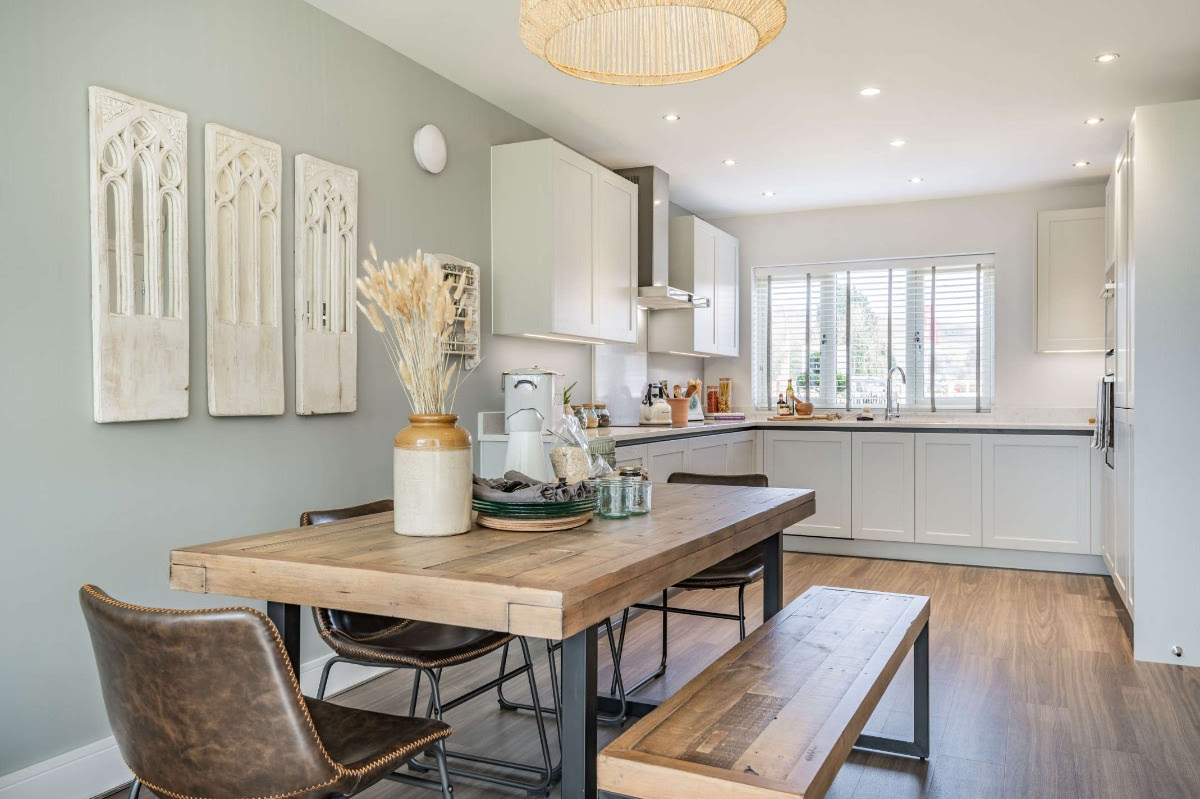 The design team were really focused on demonstrating the authenticity and care that shaped the styling in the kitchen/dining room. Inventive details including cruelty free and vegan food products, recycled glass jars and a matching jug from a reclamation yard in Glastonbury are dotted around this space. Lucy adds: "The hero of the dining area is the desk, which was assembled inhouse by our team and is made up of an old door from Glastonbury Reclamation and some second-hand trestle legs."
The dining chairs and desk chair were produced and sourced by UK based ethical companies, along with the shoe bench which has been dyed with a water-based solution making it nontoxic to the environment.
Lucy comments: "This room is exceptionally bright and airy and we wanted to harness this fresh feel throughout the room. We equalised the room with wooden elements such as the beautiful table and matching bench, which were purchased from a company who plants four trees for each one cut down."
Bedroom One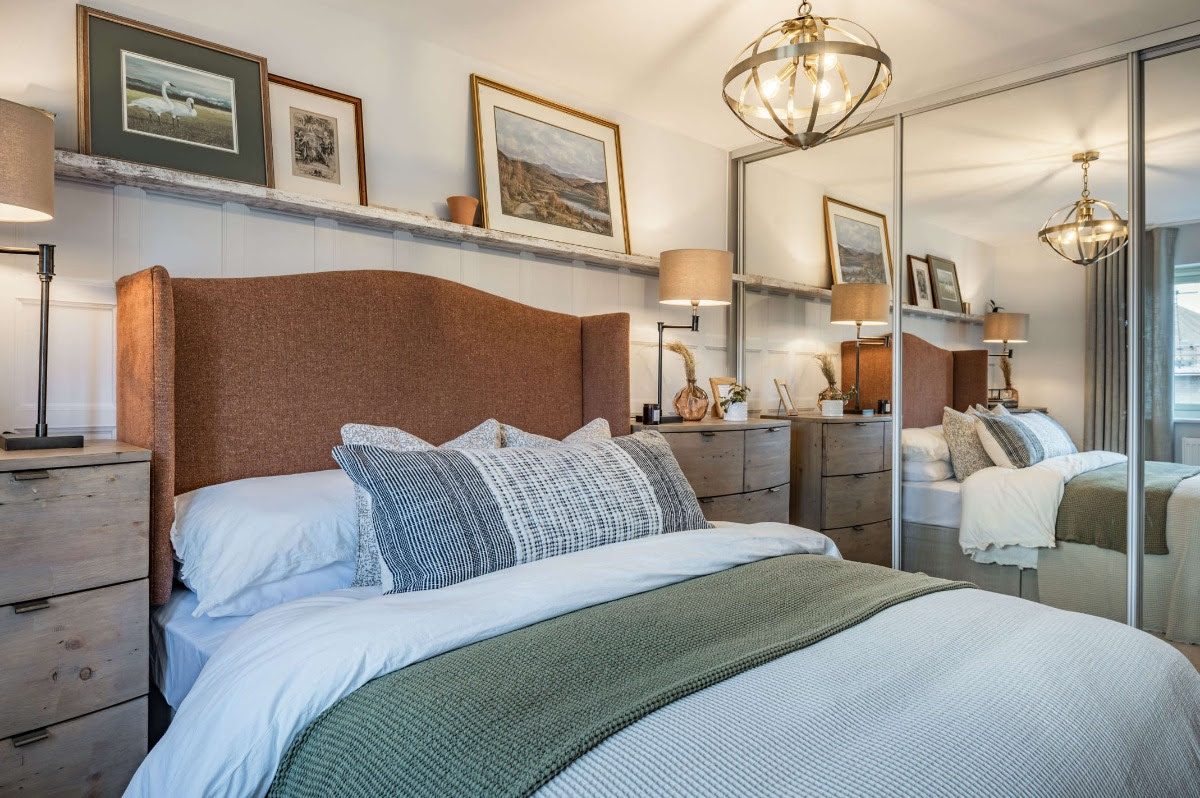 The design team created subtle themes in each bedroom to show different elements of the climate crisis. The principal-bedroom showcases sustainable luxury, featuring an exquisite rustic-coloured headboard made from recycled polyester and yarn. Cushions and the window treatment are also created from recycled fabrics, whilst the artwork and the full-length wooden-framed mirror are second hand from charity shops and reclamation yards. Providing continuity, two wooden bedside drawer units and the shelf above the bed are made from sustainable wood. The bed linen is organic and the lamps and light features are all from ethical UK based companies.
Bedroom Two
This room features a bespoke statement wall made up of a dramatic dark backdrop with contrasting pink and navy flowers, complemented with a multitude of wooden furniture. Two bedside units and a stunning double wardrobe made from sustainable sources create optimum storage as well as balancing the colour hues of the statement wall. The on-trend wooden chair was sourced from Facebook marketplace and updated with a fresh coat of paint in a serene grey shade. As with bedroom one, the bed linen is organic, the furnishings sustainable and the artwork and mirrors from reclamation yards.
Bedroom Three
The third bedroom design focuses on our oceans and is based on Lucy's personal experience and insight. She explains. "I'm a diver myself and have dived all over the world, but sadly the evidence of destructive human impact on the sea is clear. I've encountered plastic waste on every excursion I've been on".
Inspired by the fight against plastic pollution, the headboard fabric is made from recycled plastic bottles whilst the bed linen is organic and the cushion fabrics are produced using recycled polyester. To enhance the story telling in this room, diving accessories, bought second-hand from eBay, have been placed around the room and paintings of coral and a green-blue wall behind the headboard all tie the design together. Lucy comments: "We thought it was important to explain the thoughts behind this room so included information on a pinboard regarding the devastating effects that human behaviour has had on the oceans."
Bedroom Four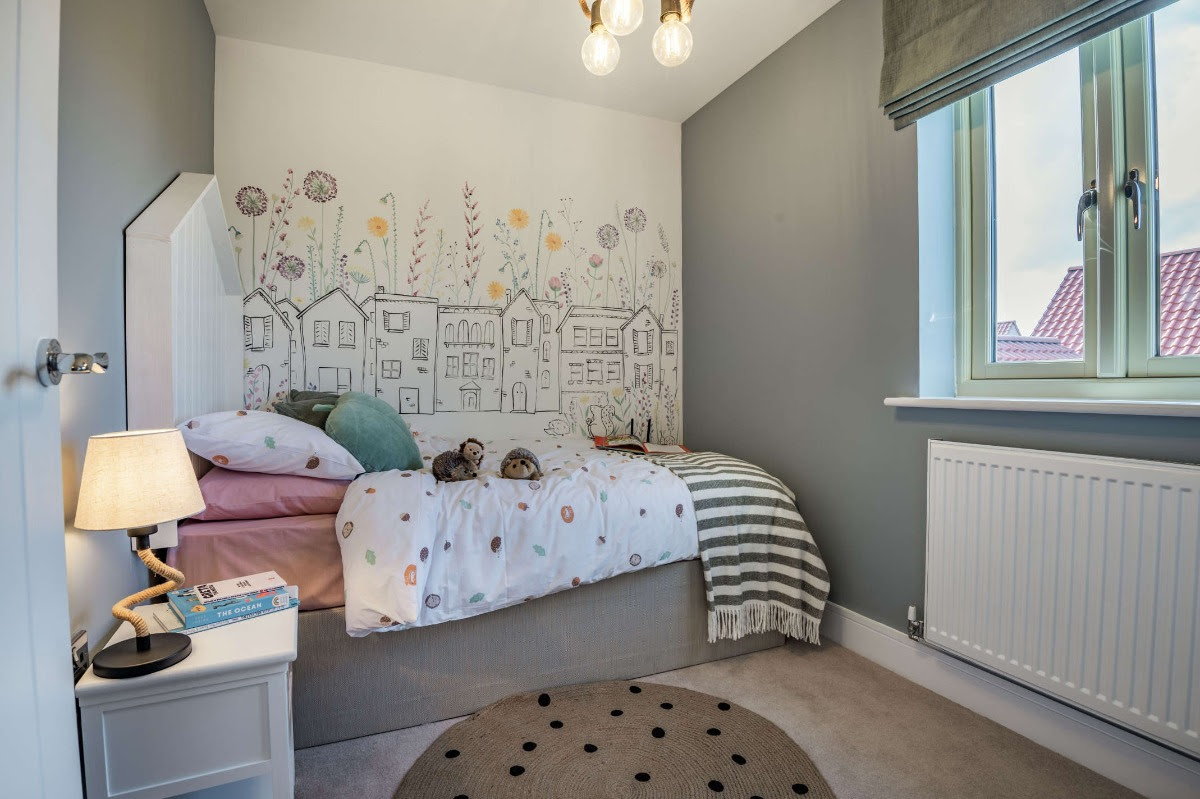 Hedgehog highways have been introduced around this Newland Homes' development and bedroom four highlights this specific cause. With recycled polyester fabrics throughout, organic bed linen and a Jute sustainable rug, this room promotes the protection of our wildlife. With scatterings of grey, white and pink throughout, the room is a welcoming haven full of hedgehog-themed accessories. The furniture, such as the drawer unit and bedside table have been carefully selected from a company which has won awards for reducing their carbon footprint.
Wallpaper
The wallpaper and paints used throughout the home were sourced from Little Greene, a company which uniquely offer a sustainable paint alternative. Lucy explains: "Little Greene's wallpaper comes from FSC or PEFC certified sustainable forests whereby for every tree that is used, a further four are planted. The pigments within the paper are non-toxic and the wallpaper paste contains no solvent. The water-based paint has the industry's lowest eco-rating, contributing no solvent to the atmosphere nor homeowners' respiratory systems and in addition, they are virtually odourless. For the oil-based paints, Little Greene has reformulated the elements to use vegetable oil, a sustainable alternative which does not compromise on the longevity or quality of the paint."
Chris Parker, Marketing Manager at Newland Homes comments: "Andrew Henry Interiors has created a unique design at Ryves Vale. Incorporating the environmental issues we face and connecting the design with nature has added an incredible USP to our show home. We were bowled over by the care and attention to detail the design team demonstrated on this project and the end result is testament to their considered approach. They've shown that sustainable interior design does not mean a compromise in style or elegance. This show home delivers outstanding comfort and effective and poignant story telling, creating a unique experience for potential buyers."
Property & Development Magazine | The Home of Residential Sector News