The Yacht Club Nottingham – located on Nottingham's picturesque riverside opposite the Lady Bay nature reserve and West Bridgford lies the brand-new waterfront development – Whilst the apartments ooze sophistication and style, the location offers an abundance of uninterrupted scenic waterside views.
Overlooking the tranquil River Trent, the surroundings are striking no matter the season and the location is conveniently within walking distance of West Bridgford, Nottingham train station and the bustling city centre, whilst still being far enough away to maintain a peaceful ambience, for a central yet serene lifestyle.
The Yacht Club Nottingham consists of 81 beautifully designed apartments, ranging from one to three bedrooms and each and every property has views of the river and is fitted with contemporary furnishings.
All apartments feature either a generous balcony or terrace with views over Lady Bay nature reserve and the picturesque views will remain uninterrupted, allowing natural light to penetrate through, creating a spacious and breathable living space for optimum wellbeing.
Jules Hunt, director at FHP Living, said: "Everything about these properties and the location of the development is idyllic. From the stunning surrounding scenery, to the convenient location and abundance of lighting. Every single feature is crafted to enhance the natural surroundings, for a truly beautiful living environment."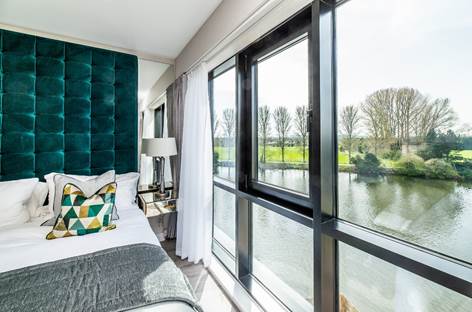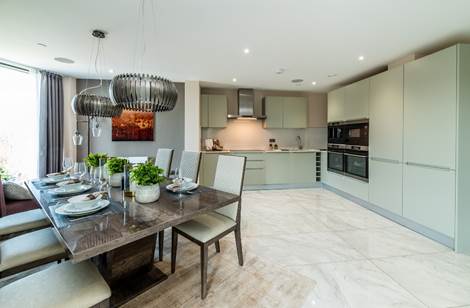 This open plan living and kitchen area allows a smooth flowing transition from dining to living, creating a social environment which is fantastic for entertaining. Marble flooring adds a fresh yet timeless appearance, contributing to the luxurious tone of this property, whilst the metallic pendant lighting creates a decorative and dramatic addition. Furthermore, the handle-less designs of the cupboards contribute to the sleek and streamlined feel of the room.
Soft and neutral hues with hints of mint work well with the large windows, enabling natural light to flood and fill the living and dining area.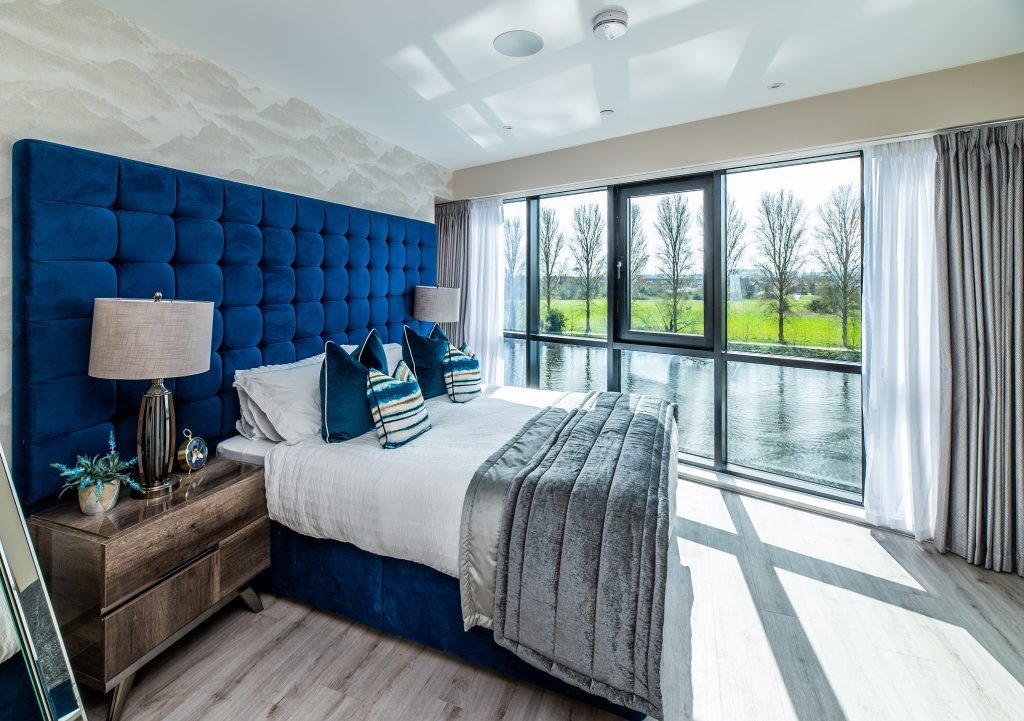 The master bedroom presents itself as the epitome of luxury. Contrasting textures of soft materials and clean lines add character to the room, whilst the muted background makes way for the deep pop of colour in the headboard.
Jules continues: "The deep tones of the royal blue headboard go hand in hand with the views of the water immediately outside of the window, allowing the outdoors in for a tranquil sanctuary."
Smart polished fittings with a mixture of marbled and wooden textures help strike the perfect balance between a clean-cut and homely feel in the en-suite bathroom.
The overall minimalistic aesthetic helps create a relaxing environment, whilst the use of natural materials accentuates the warmth and comfort of the room. 
A combination of neutral tones, natural materials, botanical elements and a statement mirror wall complete the elegant and polished reception area and corridor, which is an impactful and modern aspect of the property.