Rotpunkt, award-winning manufacturer of climate-friendly German kitchen furniture is the natural choice for luxury kitchen & bathroom design studio, Zen Kuchen, as it commissions the brand to furnish a luxury open-plan kitchen for the owner, Zen Bitri, in his contemporary townhouse in Cobham, Surrey.
Helena Flahive, Designer at Zen Kuchen says, "This highly personal and welcoming kitchen dining space was created with Zen's passion for hospitality and love of modern art in mind. As a generous host who loves having a houseful of family and friends to entertain, we felt that Rotpunkt could supply statement contemporary furniture that would elevate the home dining experience and create a real sense of occasion. With this in mind, extra tall units provide maximum storage where there is a minimal footprint in the cook zone, and stylish integrated lighting adds an extra layer of sophistication to enrich the 'going out at home' feel.
In fact, Zen has a love of technology and he was delighted that the smart-ready LED lighting as standard by Rotpunkt, would allow easy control of the lighting to create the right mood for a casual supper or a special dinner party as required. As the owner of Zen Kuchen and known specialist when it comes to design exclusivity, Zen is a true design connoisseur with an instinctive feel for colour and pattern. The recommendation of using intense black kitchen plays into this narrative, heightening the dramatic look and feel of the space, as well as creating the perfect background for Zen's vivid artwork also on display."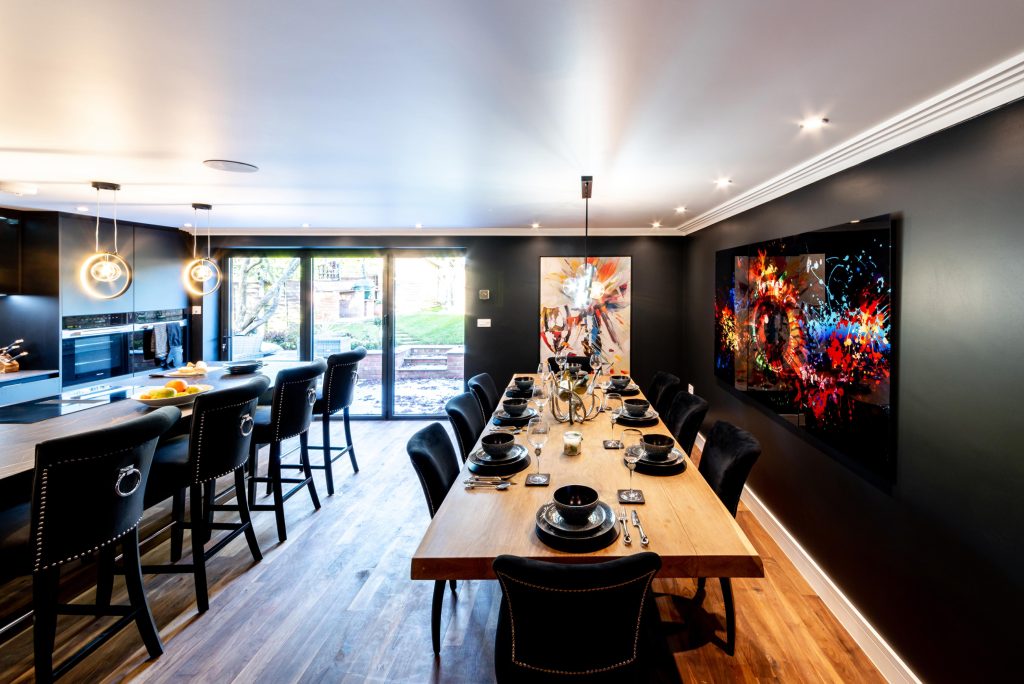 Rotpunkt specialise in creating life-enhancing kitchen furniture for the blended space, where customers can enjoy spending time cooking, relaxing and eating together as the desire for beautiful, functional hybrid spaces is set to continue this year. "According to Waitrose Food & Drink Report, 6 in 10 of us are taking more pride in home cooking with 49% planning to go out less now that Covid restrictions have ended. This has also led to a greater awareness of sustainable design and manufacture, with many homeowners wanting to play their part in reducing carbon emissions and so we are delighted that our climate-friendly furniture solutions are able to answer this demand stylishly and sustainably," says Matt Phillips, Head of UK Operations at Rotpunkt.
Combining the very best in industrial style and contemporary home comforts, the bestselling Zerox furniture range by Rotpunkt forms the work area of this kitchen, allowing the space to become a lifestyle destination in the home. The wash zone also features a sleek black sink by Blanco and brass patinated Quooker hot water tap, which complements the bronze toughened mirror splashback and glass-fronted top units. Introducing an urban edge, the matt black furniture is complemented by a twin set of two Miele ovens. Each oven is set at an ergonomic height to the right of the sink area, which not only ensures direct access to the statement island but also provides a buffet-style dining element, with plush velvet bar stools. The studded door knockers bring an extra touch of luxury to this kitchen living space, which also boasts a wine room and adjoining dining area able to seat up to 12 people in one sitting!
The floating-effect island is achieved through a reduced pedestal, which is discreetly positioned beneath the main island unit for a clean silhouette that is original and provides plenty of leg room when entertaining friends and family. A fully integrated Miele induction hob complete with downdraft extraction takes prime position and the surfaces in Dekton Laurent, offer subtle gold and copper tones for added depth against the matt black kitchen doors.
"By empowering homeowners and designers to explore ergonomic modular furniture, we are seeing a new era of bespoke kitchens coming to the fore, which are defined by personality and everyday life. Black remains a timeless design staple when creating sophisticated kitchen interiors with gravitas, and with the addition of our iconic high performance laminate finish, customers can enjoy a kitchen that is durable and high fashion," adds Matt. 
The Matt Black Zerox Furniture by Rotpunkt is priced from £15,000+vat, with this project designed and installed by Zen Kuchen: price on application. For further information on Rotpunkt UK, please email [email protected] or visit www.rotpunktkuechen.de/en/