Eleven of twelve UK regions are experiencing a significant shortage of homes being put on the market, according to new data.
The figures from Quick Move Now and Home.co.uk show the number of new properties that came onto the market in April 2021 was significantly lower than April 2019 levels in every region except Greater London.
Nationally, the number of new properties on the market in April 2021 was 16 percent lower than two years ago, and 28 percent lower than five years ago.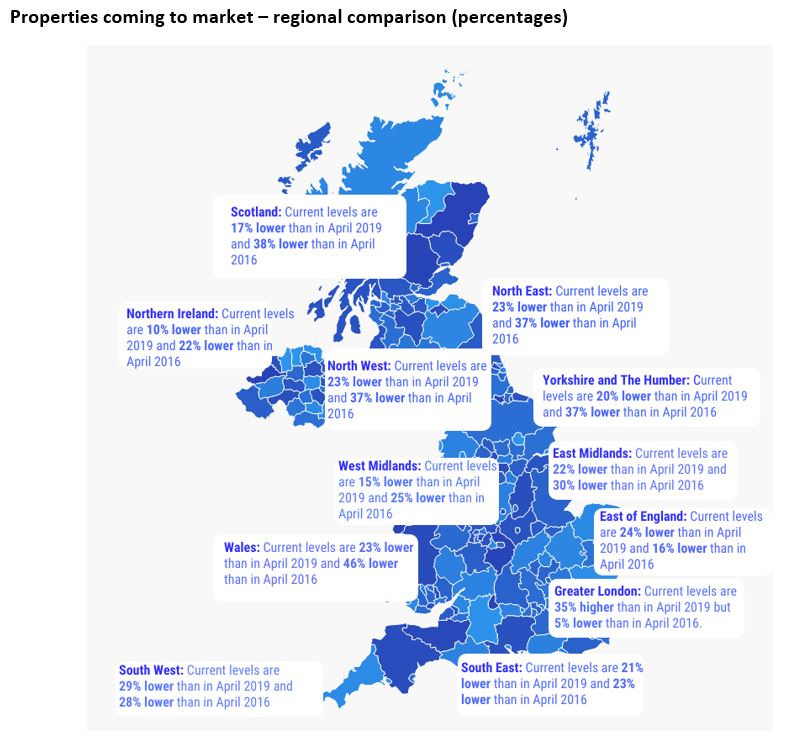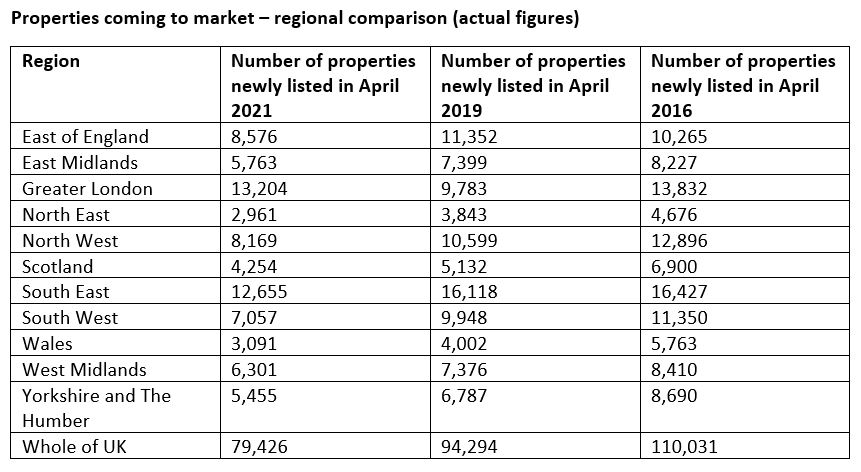 Danny Luke, Quick Move Now's managing director, commented: "A shortage of properties coming onto the market has been a big challenge for the property market over the last year. The fewer properties coming to market, the more price growth we're going to see. Nationwide's House Price Index suggests that house prices grew by 7.3 percent in 2020. For comparison, in 2019 the annual price growth figure was 1.4 percent. The level of growth we're seeing at the moment, brought about by high demand and low supply, is unnaturally high and, I would argue, simply not sustainable.
"The only region where we are seeing a greater number of properties coming to the market is Greater London, where we know demand has fallen over the last year as a result of the pandemic. Lower demand and greater supply have resulted in lowering property prices in the region.
"The property market is hugely unbalanced at the moment. We have unnaturally high demand at the lower end of the property market, created by the government's stamp duty holiday, but this demand is not being met by home sellers higher up the property ladder. First-time buyers and second-time buyers are keen to use the stamp duty holiday to move up the ladder, but those further up are displaying a great deal of caution. Unless they have a strong reason to move, such as a need to upsize or relocate, many homeowners are choosing to stay where they are whilst they wait to see how this pandemic and the resulting economic disruption will play out. This caution breeds further caution. With fewer properties coming to the market, fewer homeowners will be tempted to move without a strong need. During the pandemic, many estate agents and sellers have only accepted viewings from first-time buyers or those who have already accepted an offer on their current property. This means the property market has missed out on speculative movers who would only consider selling up for the 'right' property.
"If you're looking for a new property in the current market, your best bet is to make yourself as ready to proceed as possible. Ensure your finances are in order and you have a mortgage in principle. It's also worth considering that if you're able to make yourself a chain-free buyer it will make you more desirable to sellers.
"The current market conditions will not be sustainable for much longer, and I imagine we will see a significant re-balancing of the market once the stamp duty holiday ends."